ENTERING PEARLFIELD & BALI
The corporate culture of Yutian Hegemony is a valuable spiritual wealth formed in the years of development of the enterprise
Yutian Barley has been focusing on the production and sales of shoe glue and its supporting products for more than 20 years
Guangdong Top 500 Manufacturing Enterprises, Guangdong Top 100 Brands, Guangdong Famous Trademark Certificate, Guangdong Famous Brand Products
Yutian Bali Chemical Research Institute has strong technical force and advanced equipment
Guangdong Pearlfield & Bali Technology Co., Ltd (hereinafter referred to as the "Company" or "Pearlfield & Bali Technology") is a leading enterprise of the adhesive for shoes in China. Pearlfield & Bali Technology has been specialized in the production and sales of the adhesive for shoes and its supporting products for more than 20 years, with a sales network in more than 20 provinces and cities throughout China and a market share among the best. The Company is located in the fine chemical industry area of Zhuhai Gaolan Port Economic Zone, adjacent to the Gaolan International Port and Zhuhai Airport, so the transportation is convenient.
Pearlfield & Bali Technology has introduced the complete set of automated production equipment and technology which is currently the most advanced in the world and is the first enterprise in China which adopts the vertical fully computer-controlled production line. Its main products include: solvent type shoe adhesive series products, aqueous polyurethane adhesive, reactive hot melt adhesive, light curing adhesive, epoxy resin and other fine chemical products. Pearlfield & Bali Technology is committed to the R & D, production and sales of environmental protection products. It is the first enterprise in the industry which introduced aqueous PU adhesive with proprietary intellectual property right in 2007, which provides a complete solution for the environmental protection in the shoe-making industry.
Become the first shoe adhesive enterprise listed in China
Top 500 manufacturing enterprises in Guangdong
18 patents and one copyright
The sales network covers more than 20 provinces and cities in China
Honesty: the way to run an enterprise is honesty, and the foundation of business is trust.Responsibility: Being responsible is an essential quality to achieve a career. Be scrupulous in work, dare to face problems and take responsibility.Focus: First, we should concentrate, and second, we should persevere. Focus can be professional, persistence can be successful.Innovation: It is necessary to break the outdated thinking pattern, continue to improve, and integrate the innovation gene into the whole system of enterprise operation.

Paying back shareholders' investment reflects the interests and expectations of shareholders, as well as the value of investors' investment in Yutian hegemony. With its core business of high market share, competitive advantage, technological advantage, good economic efficiency and large market development space, Yutian Barley is committed to giving investors good returns. Only by creating value and platform for shareholders, customers and employees can the company become bigger and stronger.

Quality is the core of all staff, all-round and whole process management. Focus on the product quality, equipment quality, work quality and service quality of the enterprise to create a high-quality brand; Pay attention to the quality standardization management style, build a high-quality service enterprise image, and maintain the vitality and influence of the enterprise forever.

Customers are where our value is realized and the center of all our work.To satisfy customers is our unremitting pursuit.Customer satisfaction is the starting point of everything, and customer development is the driving force of everything

Safety is the top priority of the enterprise, and it is the cornerstone of all the work of the enterprise. To do a good job in safe production, we should not only put people first, establish enterprise production on the basis of workers' life safety, but also take scientific development as the core, adhere to the policy of "safety first, prevention first, and comprehensive management", establish a comprehensive view of safety, life, and production, cherish employees' lives, cherish their health, do a good job in civilized production, and achieve production, safety, health The coordinated development and common improvement of civilization.
DEVELOPMENT HISTORY
1994 Establishment of Foshan New Generation Chemical Products Co.
Renamed as Foshan Nanhai Ba Li Chemical Products Co.
2003 Establishment of Zhuhai Yutian Chemical Products Co.
On 30 January 2004, the construction of the first phase of a new 80,000 ton adhesive project was started.
On 20 December 2006, the first phase of 80,000 tonnes of adhesive project was opened and put into operation.
In August 2007, the second phase of the epoxy resin project was prepared.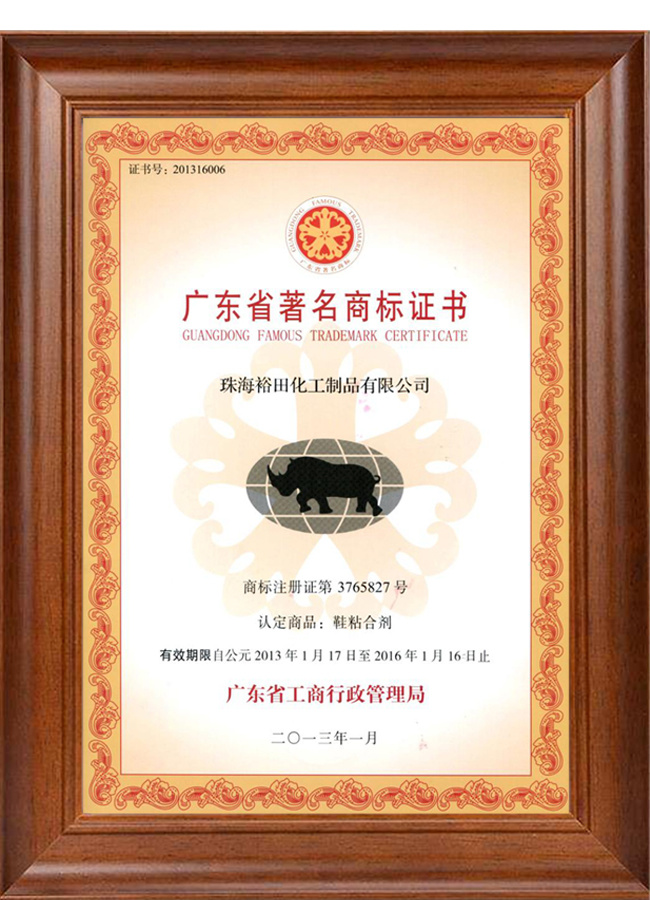 Guangdong Famous Trademark Certificate
Guangdong Famous Trademark Certificate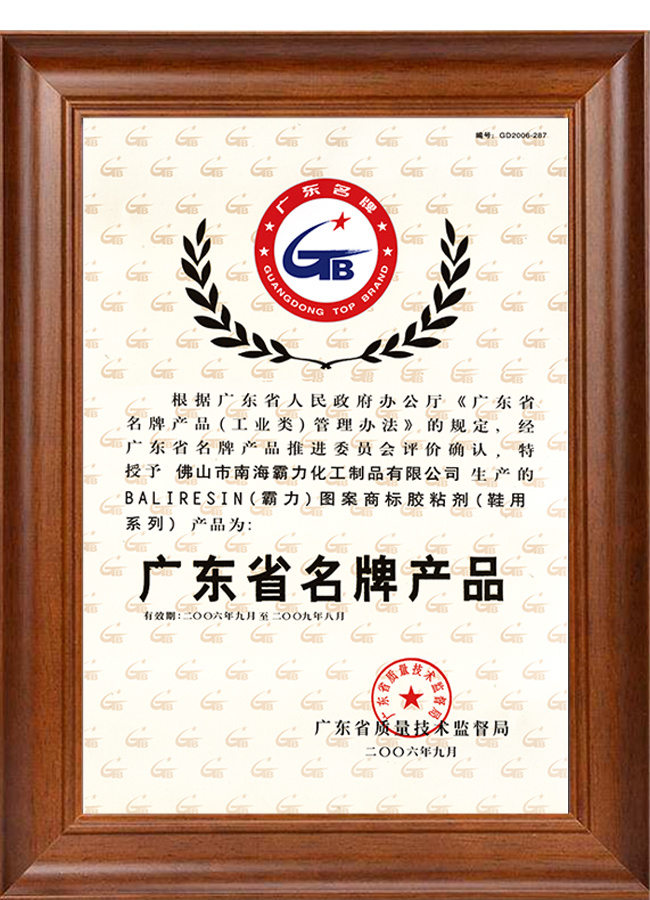 Famous Brand Products of Guangdong Province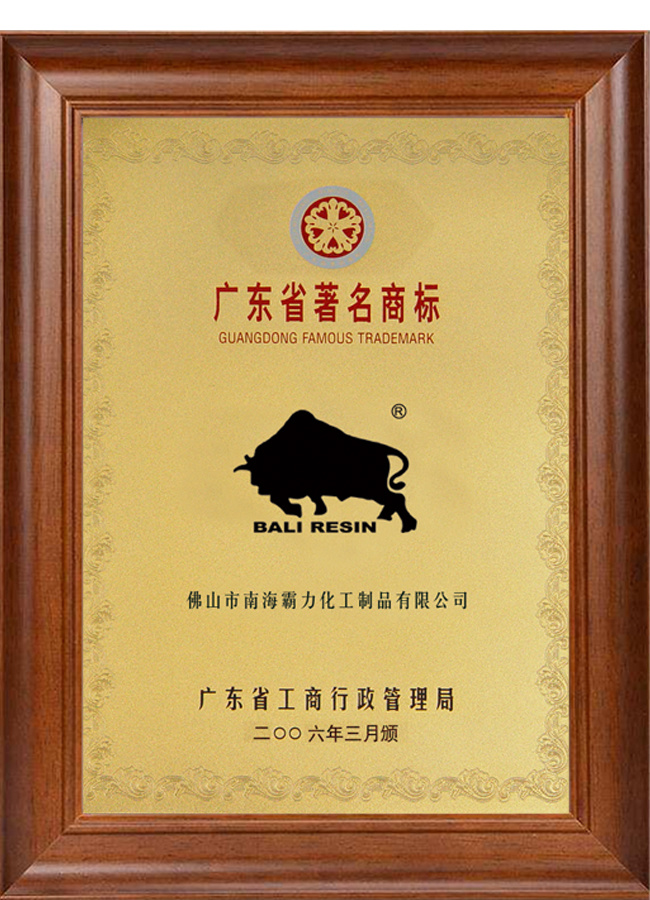 Guangdong Famous Trademark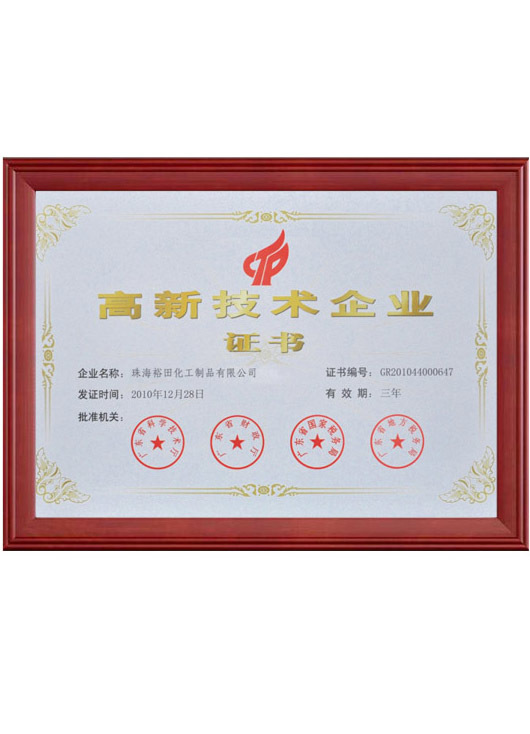 High-tech Enterprise Certificate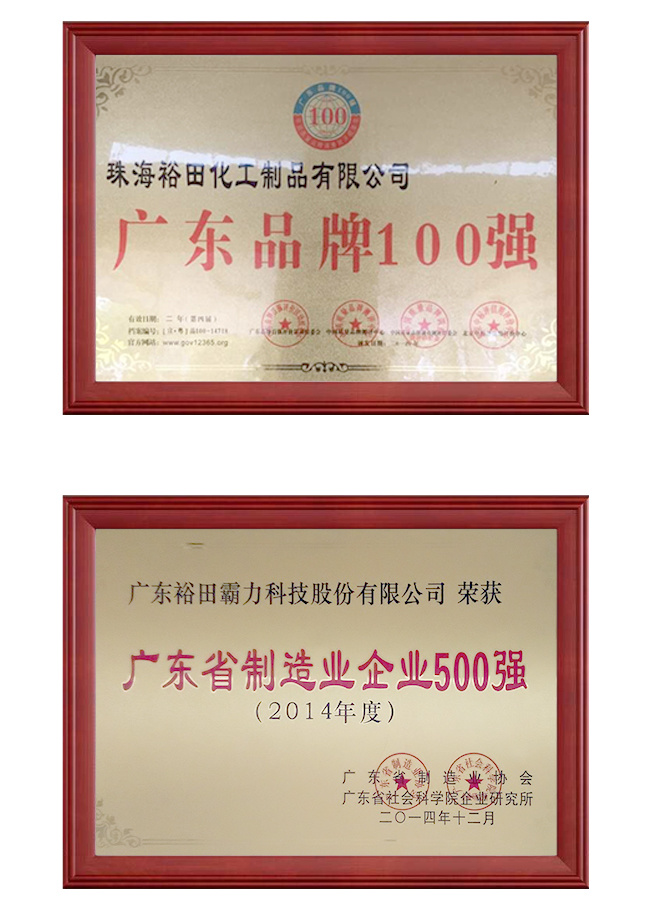 Top 100 Guangdong Brands / Top 500 Manufacturing Enterprises in Guangdong Province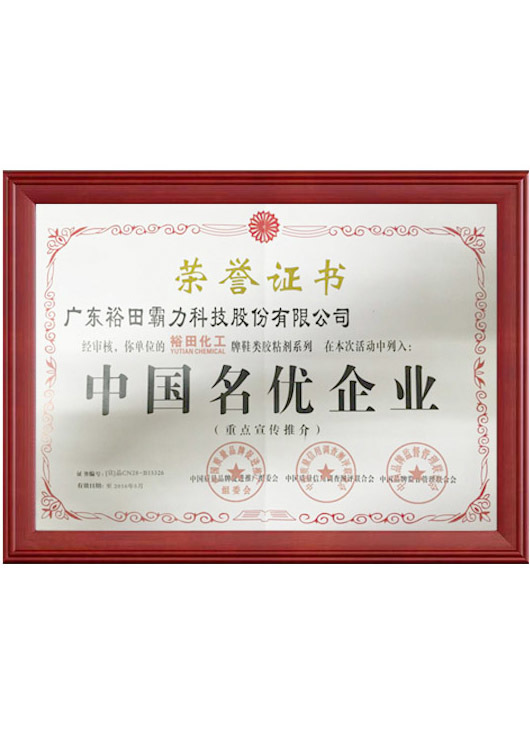 China Famous Enterprise Certificate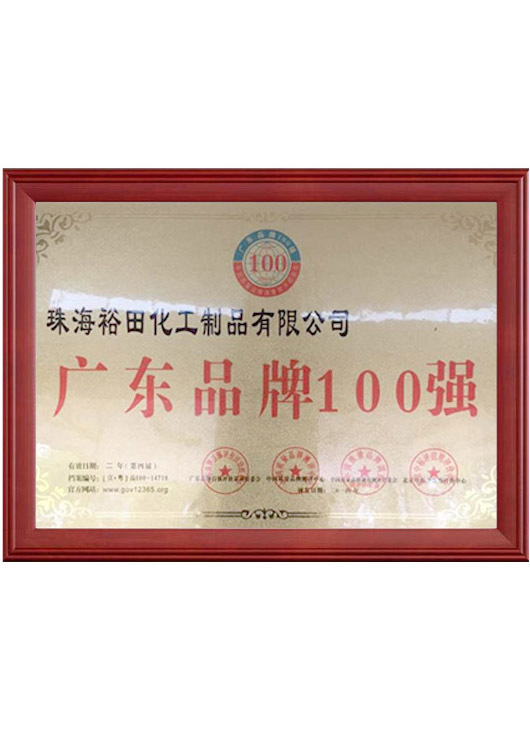 QUALITY CONTROL
Pearlfield & Bali Technology attaches great importance to the quality of the products. Several full-time technical personnel are engaged in quality management and quality control. The Company has assigned full-time personnel for the work from incoming inspection to production process control, semi-finished products inspection and outgoing inspection as well as the quality tracking of outgoing products. The establishment of testing items is comprehensive and scientific. The Company has the most advanced online monitoring system as well as gel permeation chromatograph, infrared spectrometric analyzer, Mettler trace moisture analyzer, high performance liquid chromatograph, gas chromatograph and other inspection equipment, which ensure the accuracy of the inspection results. The Company is one of the first adhesive production enterprises which passed the ISO 9001 international quality management system certification. In the meantime, the products of the products also passed the certifications of CTA and environment-friendly labeling products. All these ensure that the Company can consistently provide customers with the products with excellent and stable quality.
The company attaches great importance to technical transformation and product research and development. Its affiliated research and development institution, Yutian Bali Chemical Research Institute, has a strong technical force and advanced instruments and equipment. It has undertaken research on key breakthrough bidding projects and strategic emerging industry projects in key areas of Guangdong Province, and participated in the formulation and revision of a number of national standards, industrial standards and local standards. At the same time, the Institute has also established long-term scientific research cooperation with the Polymer Research Institute of Sun Yat sen University, Guangzhou Research and Design Institute of Chemical Industry and other research institutions to jointly develop and research high-performance environmental protection products such as waterborne polyurethane adhesive, reactive polyurethane hot melt adhesive, light curing adhesive and other fine chemical products. Most of these products have successfully achieved industrialization and have been widely promoted and applied.
---
Copyright Guangdong Yutian Baoli Technology Co., Ltd.